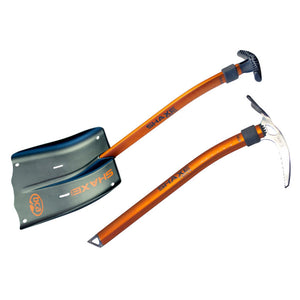 The Backcountry Access Shaxe Tech Avalanche Shovel converts into an ice axe, for the weight-conscious. This product will keep you safe in an avalanche environment.
The BCA Shaxe Tech avalanche shovel and ice axe combo is ideal for ski mountaineering, as it saves weight and space in your pack by eliminating the redundant shaft when carrying a separate ice axe.  The BCA Shaxe Tech avalanche rescue shovel comes with an interchangeable ice axe head for Type 1 (basic) ice axes. The Shaxe Tech has a curved fixed-length shaft and stainless steel head with additional 9 degrees of pick angle providing higher performance on harder, steeper climbs.
Great addition to your spring/summer skiing arsenal. Shovel still operational when switched to axe mode. Includes hardware to utilize the blade and shaft to make a rescue sled with K2 skis (or any skis with holes in tip and tail).
The smooth blade allows for shaving down clean snow pit walls and contains holes for use as a snow anchor.
Avalanche Shovel Resources
WEIGHT IN SHOVEL MODE
1.5 lbs / 706 g
WEIGHT IN AXE MODE
1.0 lbs / 436 g
TOTAL PACKED WEIGHT (ALL PARTS)
2.0 lbs / 902 g
PICK MATERIAL
420 stainless steel
BLADE DIMENSIONS
9.4 x 11.2 in / 24 x 28.5 cm
BLADE/SHAFT MATERIAL
6061 T6 Aluminum
SHOVEL MODE LENGTH
27 in / 68 cm
AXE MODE LENGTH
20 in / 51 cm