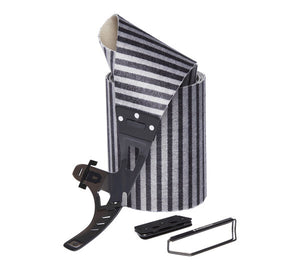 Designed for epic splitboard excursions, the new GlideLite Splitboard Mix STS skins feature our patented STS tail attachment that is adjustable and stretches to the perfect length. Designed with a mix of mohair and nylon, these skins provide the ultimate balance of lightweight glide and uphill traction.
INSTRUCTIONS:
https://youtu.be/D_jmpD7483c
DESCRIPTION
Engineered for splitboarding deep in the backcountry where both packability and traction are paramount, the Black Diamond GlideLite Splitboard Mix STS Skins come with our patented STS tail attachments, which are adjustable, plus the back strap stretches to ensure the perfect fit. With an optimal blend of mohair and nylon, these skins are engineered to give you ultimate freedom in the backcountry.
Mix of 65% mohair and 35% nylon
Patented STS adjustable tails that stretch two directions to fit a wide variety of board shapes
Adjustable tip attachment